Good Morning....
If you are looking for the Scrapbook USA Expo Blog Hop, click HERE.
Well I was soooo excited when Sydney asked if she could be Sally from the Nightmare Before Christmas for Halloween.. That is one of our family's FAVE movies and we LOVE it!!!! We love going to Disneyland at Halloween just to see the Haunted Mansion Nightmare Before Christmas makeover. This year we even got pics with Sally and Jack.
So I went to Pinterest for some inspiration. I am NOT a huge seamstress at all, my sewing skills are pretty basic. I did take home ec in middle school and a year of sewing in high school but I HATED following a pattern, I was horrible at it. So we decided to NOT go with a pattern, and just sew her a Sally dress, luckily Sally is a rag doll so the pieces didn't have to be perfect.
I saw this Sally on pinterest:
Here are all the fabrics I started with all over the floor, I got a yard of each, just wanting to be safe.
I kinda cheated a little bit, I used a fitted dress and then sewed all the fabrics onto the dress, so I didn't have to make a total dress from scratch. But I did the sleeves myself, and that is what I was super worried about. So the pink, is the dress I sewed all the fabrics onto: (plus we kept her Sally doll on hand to refer to)

Here is the first side mostly done:
Here is the finished costume:
We got $1 make up at Target in blue and white and mixed the two for her face/ back makeup, and then just used black eyeliner for her "stitches" and she used some of my red lipstick, and we used the white for her eye shadow. (I'm no make up artist so this was a good as it got.) We also not NON permanent hair spray color from the beauty supply store and it didn't cover as much, since this was the 2nd night using the spray, but let's just say... she has some red hair now.. it doesn't totally come out (even though the store said it would). I kinda like it.
She was soooo excited and LOVED her costume....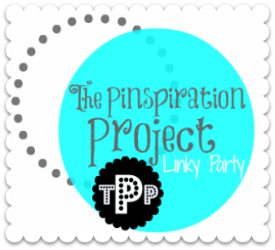 And with Market Yourself Monday at Sumo's Sweet Stuff.
Petite Hermine Sunday Linky Party #85.
Handmade Tuesday 11.6.12 Ladybug Blessings,
Just Something I Whipped up 11.4.12