Hello and good morning....
There is one thing that I do enjoy about the holidays, and it is the FOOD!!!! There are soooo many great recipes and desserts just waiting to be tried. I also really enjoy it, because alot of recipes are seasonal, and so that makes them kinda extra special.
I really do enjoy egg nog. We used to go over to my great grandfather's house on Christmas Eve and he would warm it up, serve it in special mugs, and then there would be open boxes of See's Candy on the table.. talk about heaven to a kid.
When I saw this recipe on Pinterest I was sooo excited!!!
We went and got some egg nog this weekend, and I pretty much followed the recipe to a tee.
Here's the batter... which is seriously AMAZING!!!! I could have just eaten the batter alone:
Fresh out of the oven:
And topped with frosting:
I really like how the frosting set up super thick and wasn't runny... They were just as good the next day too!! And it doesn't make too big of a batch, which is nice.... cuz you could eat them all!!!
I'm linking up with:
Pinspiration Project #16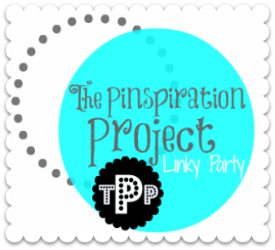 Seriously!!!! Try them... you will not be disappointed!!!! have a wonderful day!!!!