Hello and good morning....
When I saw this...... oh my gosh I KNEW I had to try these!!!! I LOVE LOVE pumpkin, yet ironically enough, I don't like pumpkin pie AT ALL...LOL
I saw this recipe for White Chocolate Pumpkin Pie cookies:
So I game them a whirl.. I pretty much followed the whole recipe, but I didn't have the pumpkin spice... so I used 1 tsp cinnamon and about a 1/4 tsp nutmeg to bring out the taste...
Here is the dough in the bowl, all whipped up:
added the frosting, which I totally recommend!!!!
all set up and ready to eat!!!!
I took them to a family dinner last night, and they were gobbled up!!!! totally DE-LISH!!!! They are a bit on the heavier side for a cookie... but come one, it was Thanksgiving this week, and I already ate alot.. I really liked the twist of the white chocolate chips, kinda gave them a sweet kick!!! I'm glad I shared them, cuz I could have eaten them ALL!!!
yup, that good!!!!
I'm linking up with Pinspiration Project #17 this week.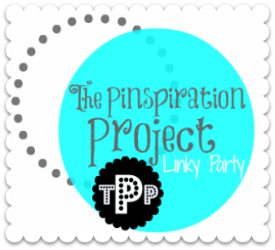 I am also SUPER excited to add this to my sidebar, my egg nog cookies were on last week's top 3 most clicked!!!
Seriously... try em!!!!