Hello, I am sooooo excited to share this recipe for you...
RIGHT when I saw the pin, I was ALL over this one!!! I a total Reese's Peanut Butter kind of girl, anything peanut butter and chocolate is totally right up my alley... So when I saw it, I pinned it, printed it off and made it THAT night!!!! Can I tell ya................. soooooo totally worth it!!!! These ROCKED!!!!
So here is my inspiration:
First I ran and did a mad dash through the pantry to make sure we had everything... and we did!!!
So I made my brownie bottom from scratch:
Placed it in the over to bake:
Made my icing for the top layer, which is VERY rich since it has cream cheese in it:
Then you cut up Reese's Peanut Butter cups, I actually had some seasonal Reese's shapes, and those worked great. I also sprinkled Reese's peanut butter chips, and nixed the nuts.
I couldn't even wait for it to totally set up, we just dove right in:
HEAVENLY!!!!!! oh my gooooooodness, amazing!!!! We snacked on these for a couple of days till they were gone. They did take great totally set up the next day....
By the recommend some milk with them...
I'm linking up with the Pinspriation Project #19 this week.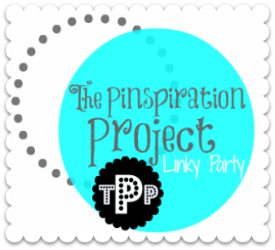 Try them... you will not be sorry!!!!